Brazilian Symposium on Funding and Management of Rainwater 2014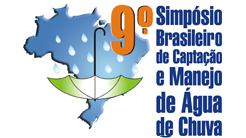 In 2014, in its 9th edition, the SBCMAC extends this view by declaring its central theme Rainwater : Water security for the twenty-first century. Under this theme, the 9th SBCMAC discusses the role of rainwater to supply the society regarding issues such as pollution and scarcity of traditional sources. The 9th SBCMAC will be held in the city of Feira Santana - BA, under the coordination of the State University of Feira de Santana ( UEFS ) and the Federal University of Reconcavo of Bahia ( UFRB ), the period of 12 to 15 August 2014 .
The use of rainwater passes nowadays for advanced process technology transition now involves decision makers, users and manufacturers of materials and equipment, with strong participation from academia .