BRUSSELS 2017 SETAC EUROPE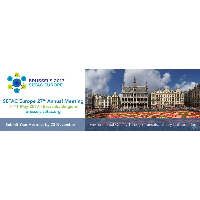 The next SETAC (Society of Ecotoxicology and Chemistry) Europe Annual Meeting will be held in 2017 in Brussels, Belgium,
During this meeting, ecotoxicology, toxicology, environmental and human exposure, risk assessment and management, environmental policy and economics as well as life cycle assessment topics, will be presented.
The overarching theme of the meeting is therefore "environmental quality through transdisciplinary collaboration" .
Session details can be found in the scientific programme at http://brussels.setac.org/programme/scientific-programme/
One of these session include the Truck 4: Ecological risk assessment and human health risk assessment of chemicals and other stressors and mixtures , a discussion considering the monitoring and distribution of microplastics within the marine environment:
Microplastics, nanoplastics and co-contaminants: Effects and risk assessment for biota, the environment and human health , Chairs: Matthew Cole, Ana I Catarino, Maria Cristina Fossi and Albert Koelmans
Deadline for abstract submission is 23rd November 2016.