Canadian Shale Water Management 2019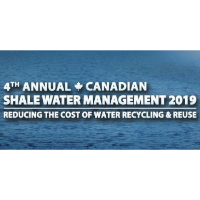 The Premier Forum for Shale Water Management, Recycling and Reuse
Welcome to the Canadian Shale Water Management 2019 Exhibition and Conference where shale operators and service companies will meet with leading water management experts and key regulators in Calgary, Alberta to explore new cost-effective water treatment, sourcing, disposal and storage solutions for the North American shale plays.
While operators adjust to a lower oil price market, new initiatives towards more efficient and cost effective water management solutions are being explored in order to remain profitable in a lower margin business. Operators are seeking optimal performance and low-cost water management strategies in line with the latest regulations and environmental considerations in order to ensure long-term operational security for a 'low-to-stay' oil price market.
With the challenges of keeping OPEX down to a minimum, shale operators are faced with the choice of adopting either "low-cost disposal" or "treatment for re-use" strategies to manage their produced water. While the operating costs can vary depending on the proximity of the producing wells to local water-disposal facilities, generally 60 to 80 percent of the total cost of disposal is attributed to water-hauling and transportation expenses. Where possible, operators are finding new and innovative options to recycle and reuse produced water for cost-effective and stable solutions.
With developments in treatment technologies and strategic know-how, recent innovations in shale water management offer new hope for operators looking to maintain their economic margins under challenging market conditions and to better manage their wastewater. The Canadian Shale Water Management 2019 conference is set to become North America's leading exhibition and conference exclusively for shale operators and a large array of service providers to explore new opportunities in water management, water recycling and water re-use to improve operational efficiencies and maintain profitability for both pre-existing wells and new operations.
The key focus for this year's conference will be "Reducing the Cost of Water Recycling and Reuse" and the objective will be to bring shale operators and service companies together with leading water management experts, including key government representatives and policy think-tanks to collaborate and examine new opportunities in water sourcing, treatment, disposal and storage solutions and to address the real challenges in water management for shale wells across North America.
Key topics on this year's agenda include:
Making an economic assessment for shale water management strategies
Looking for low-cost and low-risk solutions in water treatment, recycling and reuse
Evaluating the options and making choices in treatment-for-reuse and water-disposal
New technologies and technical know-how in shale water management operations
Upcoming regulations and industry standards for produced water management
Operational case studies and developing a successful water management program
This exhibition and conference will provide a forum for all stakeholders from shale operators and upstream service providers to leading wastewater management experts and water disposal facilities, to network and build cross-market relationships and to discuss the latest results in water management initiatives for the North American shale sector.