Canadian Shale Water Management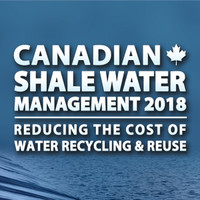 Welcome to the Canadian Shale Water Management 2018 Exhibition and Conference where shale operators and service companies will meet with leading water management experts and key regulators in Calgary, Alberta to explore new cost-effective water treatment, sourcing, disposal and storage solutions for the North American shale plays.
While operators adjust to a lower oil price market, new initiatives towards more efficient and cost effective water management solutions are being explored in order to remain profitable in a lower margin business. Operators are seeking optimal performance and low-cost water management strategies in line with the latest regulations and environmental considerations in order to ensure long-term operational security for a 'low-to-stay' oil price market.