China International Shale Gas Summit 2015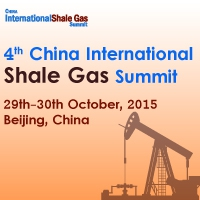 Shale gas sparked an energy revolution in the United States, helping end a reliance on imports and making the nation an energy superpower. Yet while China eyes its own shale revolution, the world's largest energy consumer is seeing its production targets rapidly evaporate as it confronts enormous technological and market challenges. China is in the early stages of a fracking revolution, attempting to copy the rise in U.S. shale-gas production in an effort to combat unhealthy levels of pollution and meet a surge in energy demand. By 2020, China—the world's largest energy consumer—aims to produce 30 billion cubic meters of shale-gas a year, up from the current level of 1.3 billion cubic meters.
Under its 12th Five-Year Plan, China set a target of doubling natural gas in primary energy consumption to 8.3 percent by 2015, producing 6.5 bcm annually and as much as 60 to 100 bcm by 2020. The move is part of a shift away from its heavy reliance on coal-fired power, which accounts for around 70 percent of energy consumption. Gas-fired power stations generate around half the emissions of equivalent coal-fired power stations, making gas an important part of the government's push to clean China's polluted cities.
4th China International Shale Gas Summit 2015 (CISGS 2015), Asia's leading shale gas conference scheduled for 29 – 30 October 2015 in Beijing, will continue to serve as the leading platform for major industry players to establish winning China strategies. Under the theme of "In China, an Opportunity for More Progress in Shale Gas Extraction", we will address the most crucial issues which determine your performance objectives in China. CISGS 2015 will help you to better analyze of China's dynamic shale gas industry and further identify the strategic role of China in your global business plan.