Climate Smart Agricultural Water Management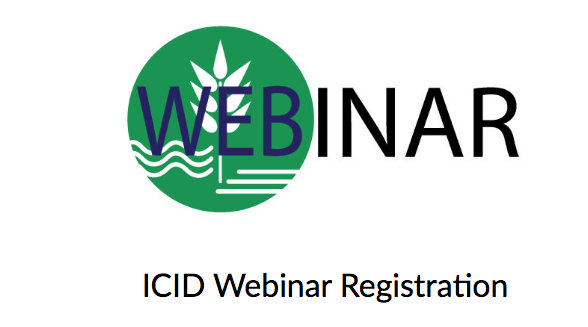 ICID Webinar on Climate Smart Agricultural Water Management Best Practices, Policy Frame Work and Way Forward
Description
Water, as the key natural resource, is fundamental to all economic, social and environmental development processes. Thus, efficient water resources management is essential for achieving poverty reduction through inclusive growth; maintaining public health and food security; providing livelihoods for a life of dignity for all; and sustaining long-lasting harmony with the Earth's essential ecosystems. Globally, rising temperatures will translate into increased crop water demand.
Given the rapid changes taking place within the global development scenario due to demographics, climate change and degradation of natural resources, AWM also needs to change in order to ensure water security, food security and sustainable rural development. In view of this dynamic development scenario International Commission on Irrigation and Drainage (ICID) as a network of AWM professionals decided to give itself a reality check and reorient its vision and strategies to achieve its stated objectives. "A water secure World free of poverty and hunger through sustainable rural development," a road map to ICID vision 2030, presents the strategies to convert this vision into actions.
The ClimaAdapt Project (funded by the Ministry of Foreign Affairs, Norway and coordinated by NIBIO, Norway), AP Micro Irrigation Project (funded by NABARD, India), Base line studies on Water Use Efficiencies of Irrigation Projects (Funded by Govt. of India) have made significant contributions to capacity building, design and implementation of various measures to improve water use efficiency in the states of Andhra Pradesh and Telangana in India. The outcomes from these projects have helped in developing policy guidelines and wider adaptation of efficiency measures in the two states.
Speakers
VPH Dr. Kaluvai Yella Reddy
Vice President Hon. ICID & Dean (Faculty of Agril. Engg & Technology) @of ANGR Agricultural University, Andhra Pradesh, India
Kaluvai Yella Reddy is the Dean (Faculty of Agril. Engg & Technology) of ANGR Agricultural University, Andhra Pradesh, India. He has more than 35 years of experience in teaching, research, project management and administration. He obtained B.Tech (Agril Engg) from Dr PDKV, Akola, M.Tech and Ph.D degrees from IIT, Kharagpur and PG Diploma from University of Arizona, USA. o As Principal Investigator, Developed Solar Powered Micro Irrigation System in 2002 with the financial support of Govt of India. o As Project Manager, successfully completed $ 3.5 million FAO funded AP Water Management Project. o As Technical Advisor to Andhra Pradesh Micro Irrigation Project (APMIP), strengthened and supported the $ 570 million project in achieving 1.1 million ha under MI systems in 10 years o As Director of WALAMTARI, Hyderabad (2012-2018) contributed for the growth of the Institute as one of the best in India. o Organized over 25 national and international conferences and workshops and Pub....
Dr. K. Palanisami
Emeritus Scientist @IWMI
Dr. K. Palanisami is an international agriculture and water expert with specialization in Agriculture economics and water policy and climate change. He worked in several countries for about 12 years as a visiting professor and project scientist. He was also a consultant to World Bank, JICA, IFAD and ADB projects implemented in different countries. He was the Director of the Water Technology Centre and CARDS, Tamilnadu Agri. University (2000 -2008) and Principal researcher at International Water Management Institute (IWMI) from 2008-2014. Handled several national and international programs on water. He has written 20 books on water management and published 45 papers in leading international journals. Received several awards and fellowships at national and international level for his water and agriculture related works. Currently, serving as Emeritus Scientist of IWMI, Consultant to the ADB's SIMP in India and Adjunct Professor, Water Technology Centre, Tamilnadu Agrl University.
Er. Anshuman
Associate Director, Water Resources Division @TERI (The Energy and Resources Institute)
Mr. Anshuman, Associate Director, Water Resources Division of TERI (The Energy and Resources Institute) has been working in the field of water sector since last 24 years. His key qualifications include M. Tech. in energy & environmental management from Indian Institute of Technology (IIT), N. Delhi. His expertise in the water sector lies in the areas related to integrated water resource management, water use efficiency, water quality & quantity assessments where he has carried out several comprehensive research studies in context of the source (surface water, groundwater), issues (water scarcity, pollution, use efficiency etc.), sectors (irrigation, domestic & industrial) and stakeholders (Central/state Governments and local communities). His focus work areas include integrated water resources management (IWRM); Water use efficiency; Urban water supply & demand management studies; Water audits; Water conservation; Watershed management; Climate change and water security; ...
VP Dr. Marco Arcieri
Vice President, Secretary General, Comitato Nazionale Italiano ICID (ITAL-ICID) @ICID
Dr. Marco Arcieri, Italy Dr. Marco Arcieri is presently the Secretary General of the Italian National Committee on Irrigation and Drainage (ITAL-ICID). In his professional career spanning more than 20 years he has contributed to various studies and research in agricultural water management, land and water resources development, irrigation and drainage, flood prevention, drought monitoring, forecasting and mitigation. With his wide expertise he has visited around 40 countries in order to implement International research projects and to attend Advanced Professional Specialization Courses. From 1996-2002 he worked with the Department of Crop Production in University of Basilicata, Italy as a researcher, working on aspects connected with Crop Yield and Productivity. From 2002-2006, he attended the Department of Crop Systems, Forestry and Environmental Sciences of University, Italy, wherein he completed his Ph.D. Dr. Arcieri has been serving as a technical researcher in the Italian Min...