Comparative Water Law Course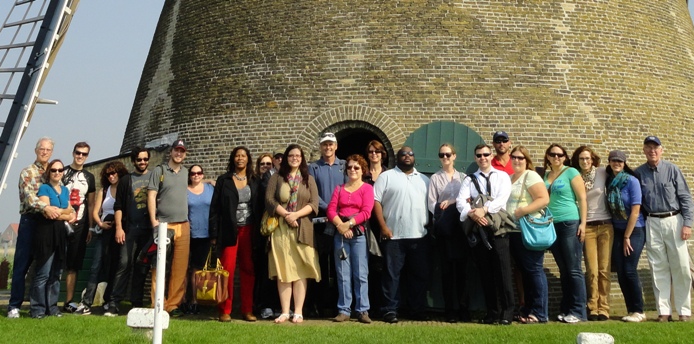 Tentative Agenda Stanley Bronson
, Executive Director, Florida Earth Foundation, West Palm Beach, FL
Garth Redfield , Ph.D., Chief Scientist, South Florida Water Management District, West Palm Beach, FL
Keith Rizzardi , Esq., Asst. Prof. of Law, St. Thomas University School of Law, Miami Gardens, FL
PERIOD 1: TUESDAY, May 21, 2013
Lecture 1.1: Introduction: South Florida Water Management and Water Law
10 min: Redfield, Rizzardi and Bronson
Objectives for the introductory lectures and expectations for students
5 min: Q&A on course structure and goals
Lecture 1.2: History of Water Management in South Florida: Nature to a Managed System
30 min: Redfield
Eras in the evolution of water management over the last 100 years in South Florida
15 min: Q & A and discussion international examples attempting to deal with past engineering and land-use problems in water management
Lecture 1.3: Legal Framework of Water Management
30 min: Rizzardi
The legal and regulatory framework for water management in Florida stressing lessons learned. Considers regulation, public works, and preservation to either meet criteria, complete projects or preserve unimpaired ecosystems, all with value disputes and litigation.
10 min: Q & A and discussion of international examples of governmental roles.
PERIOD 2:TUESDAY, May 21, 2013
Lecture 2.1 Competing Demands for Water: Agriculture and Urban Water Supply
20 min: Bronson
A brief history of urban and agricultural water supply is provided in a water management system with competing interests in flood control and environmental needs.
10 min: Q&A and discussion of international examples of competing demands for limited water resources.
Lecture 2.2 Florida's Everglades Forever Act: Initial Steps towards Restoration
30 min: Redfield
Phosphorus, water quality and legislative mandates are reviewed and programs to address regional problems are introduced including stormwater treatment areas, best management practices and funding mechanisms.
10 min: Q & A and discussion of international projects for water quality.
Lecture 2.3 Implementing the Clean Water Act in Florida
20 min: Rizzardi
The regulatory push for clean water is reviewed, considering the effectiveness of the 'hammer', the variance, the law and the money.
10 min: Q & A and discussion of the Clean Water Act framework as a blessing or a curse when applied to other nations.
PERIOD 3: WEDNESDAY, May 22, 2013
Lecture 3.1 Comparative Ecosystem Restoration - Kissimmee River and Lake Okeechobee
40 min: Redfield
A. The Kissimmee River Restoration will be outlined and reasons for its successful implementation will be highlighted.
B. Programs designed to restore Lake Okeechobee will be summarized along with challenges facing such a large watershed management project.
15 min: Q & A and discussion of examples of ecosystem restoration and management challenges worldwide.
Lecture 3.2 Innovations in Environmental Planning for the Future
30 min: Rizzardi & Redfield & Bronson
Comprehensive Everglades Restoration Project, CERP, limited progress
Dispersed Water Storage & Treatment, attempting a 'Room for the River' approach
Conservation easements in the Northern Everglades
15 min: Q & A and discussion of new approaches to ecosystem management
PERIOD 4: WEDNESDAY, May 22, 2013
Lecture 4.1 Global Climate Change and Water Policy Implications
15 min: Redfield
The SFWMD White Paper
Water supply & salt water intrusion
Flood control
Storms & the coastline
15 min: Rizzardi
The South Florida Climate Change Compact
Local intergovernmental coordination & limits of mitigation
Federal & global failure
The unspoken word: retreat
15 min: Q & A and discussion of examples of international projects addressing climate change adaptation.
Lecture 4.2 Concluding Thoughts
15 min: Bronson and Redfield
Some conclusions and recommendations for study and consideration.
30 min: Open discussion on topics of interest in environmental management
Utility and application of models
Governmental and stakeholder roles
Legal issues
STUDENT INVOLVEMENT
1. Advance Reading
· Lecture materials will be available electronically to all participants by May 1, 2013.
2. Topics for in-class discussions following each lecture.
Each student should contribute at least one international example from the following general topics related to the lectures:
· Nations undoing or struggling with past engineering projects
· Instances where nations are struggling with ineffective regulations
· Examples of water resources projects that ran out of money or other resources
· Instances in which stakeholders drive the governmental decision-making process
· Examples of new approaches to ecosystem restoration and management
· International projects addressing climate change adaptation
3. Reception and Poster Session at IHE , TUESDAY EVENING, May 21, 2013
· Substantial interaction with students from other nations
· Discussion of water resources disputes across the globe
· Recognizing the importance of information in long-term problem solving
FIELD TRIPS
TUESDAY (PM) Law students visit Rijkswaterstaat
Learning objectives:
· History of water management in the Netherlands
· Legal context in European Union
· Tensions between flood control and climate change
TUESDAY (PM) Law students visit The Hague
Learning objectives:
· Browse exhibits at museum
WEDNESDAY (PM) L aw students visit Room for the River
Learning objectives:
· Accomodation of nature instead of resistance
· Understanding the roles of engineering and land acquisition
· Realizing the financial consequences
· Legal disputes over Room for the River and the Dutch approach
WEDNESDAY (PM) Law students visit Biesbosch National Park
Learning objectives:
· Historic flooding in the region as motivation for park creation
· Understanding Dutch perspectives on ecosystem protection vs. human uses
THURSDAY (AM) Law students visit Kinkerdijk (IHE students travel to Tampa / South Florida)
Learning objectives:
· Windmills as a window into historic insights on reclamation
· Disputes over competing uses
· Impact of technology shifts upon water management
THURSDAY (PM) Law students visit Rotterdam
Learning objectives:
· The importance of dredging and access to the busiest port in Europe
· Pollution control techniques
· Futureland, and the tension between civil works project needs and environmental impacts
· Legal disputes over Futureland and the Dutch approach
FRIDAY (AM) Law students visit Watersnoodmuseum, Zeeland
Learning objectives:
· The history of flooding in the Netherlands and construction of the system
· Insights into the Dutch perspectives on and emphasis of water resource management
· Legal disputes over the projects and the Dutch approach
FRIDAY (PM) Law students visit the Delta Project, Zeeland
Learning objectives:
· Site visit to one of the world's civil engineering marvels
· Understanding the massive scale and expense of civil works construction projects