Flood and Coast 2019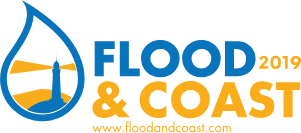 Flood and Coast 2019 will take place in Telford from 18-20 June 2019. Registration will open in early 2019.
Over 5,000 people attended the 2018 event.
ABOUT FLOOD & COAST
Flood & Coast is a unique event that advances the debate about flood and coast erosion risk, resilience and response between government bodies and local authorities with business, major infrastructure and asset managers, as well as affected communities. Embracing the concept of "a changing climate" the event draws on expertise and experience from different geographies – not only within the UK.
The event brings together the specialists in the supply chain that deliver technology and solutions to control the increasing risk of flood and rising sea levels around our coasts to spread best practice, discuss new ways of working and to deliver excellence in FCERM.
A three-day programme of workshops, presentations, debate and panel sessions tailored to the topics selected by the government and industry panel is accompanied by a trade show and exhibition which allows all stakeholders unrivalled networking opportunities, creating a real business benefit for the service and product providers to engage effectively with contractors, consultants and project owners.
It is free of charge to visit the exhibition and conference passes start at £215 for one day / £435 for three days (2018 prices, 2019 prices yet to be published).