Fracking – Onshore Unconventional Oil and Gas: Water and the Environment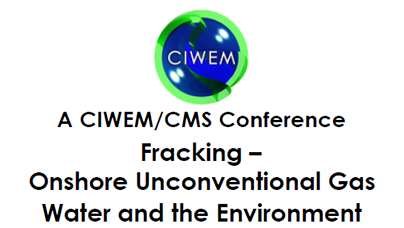 The aim of this meeting is to explore and understand the implications of fracking on water, emissions, and the wider environment. It will look at the adequacy of the evidence base to help inform how regulation and mitigation measures might work in practice over the life cycle of production.
Conference Objectives:
To learn about the current plans for fracking of shale onshore in UK, not least the scale of the resource [Recent BGS survey results] and the processes being proposed to extract the gas and mitigate environmental impacts over the life cycle of operations (exploration, operation and decommissioning).

To understand the evidence on the impacts and risks of fracking:

on water and in particular water resources, ground water and waste water treatment
on carbon, climate change and emissions (fugitive methane)
the wider environmental (the scale of land use, landscape, induced seismicity, traffic), societal impact and social licence

Is the evidence base adequate to allow commercial development, not least in relation to the way mitigation measures could work?

To help inform the controls on this activity in terms of regulatory framework, risk management, mitigation measures and how it will be applied to onshore activities across the life cycle of the development. We will be asking all of the speakers to reflect on this objective in particular.