Future Networks November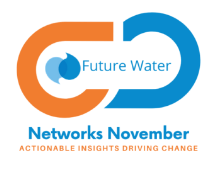 Networks November 2021
5 November @ 9:15 am - 26 November @ 1:00 pm £25.00 – £75.00
Future Water is excited to introduce Networks November 2021 – a series of webinars comprising of leading industry keynotes, knowledge bites and technical presentations, taking place on 5th, 19th, and 26th November.
Following on from the success of Future Water Networks, we are launching Networks November as a focal point for forward thinking about all things water, pipes and sewers!
The topics we will be exploring include:
Emerging Impacts of Water Use – 5 November – session 1
CMeX vs DMeX | Changing patterns of water use | Quantification of leakage – a new methodology
Net Zero Carbon Journey – 5 November – session 2
Plans for going green | Role of natural capital | Optimising wastewater processes
Risk & Resilience – 19 November – session 1
Skills for now & the future | Use of AI to support people | Changing weather patterns | Fit for purpose infrastructure
Innovation & Research – 19 November – session 2
Climate change & water driving innovation | What does the future hold? | WEWASH collaboration & COVID
Retrospective & Cross Sector – 26 November – session 1
'Tomorrow's World' | Twenty65 outputs & new research | Enabling a healthy data environment
22nd Century Sewers – 26 November – session 2
AI & CCTV systems for sewers | Technology to monitor infiltration | Urban drainage group insights
Speakers to include:
Mikal Willmott (MCIWEM C.WEM) – Severn Trent Water
Cate Lamb – CDP
Ana Gaspar – Morrison Water Services (Session Chair)
Dr Piers Clark – Isle Group (Session Chair)
Kim Rodwell, Andrea Gysin & Matthew Gee – Thames Water
Ryan Pearson – Grundfos Pumps Ltd
Dr Iain Naismith – IKT – Institute for Underground Infrastructure
Alice Leadbetter & Katy Bevan – United Utilities
Natalie Lamb – QCL Scientific
Dr William Perry – University of Cardiff
Jo Parker – Watershed Associates
Chuck Hansen – Electroscan
John Harrison – Atos
Dene Marshallsay – Artesia
Vince Herrera-Leon – Network Rail
James Hale – RPS Group
Nicky Cunningham – University of Exeter (Session Chair)
Dr Ola Michalec – Bristol University
Amanda Siqueira – VAPAR UK
Antony Green – National Grid Gas Transmission
Phil Clisham – PClisham Consulting Ltd
Jon Hodgson – Ant Hire
Dr Amy Jones – RPS Group (Session Chair)
Chris Rees – Dŵr Cymru Welsh Water
Stuart Trow – Invenio Systems/HWM
Yorkshire Water, RSK Group & Twenty65
REGISTER HERE
Introducing our Sponsors
Networks November is delighted to have RPS Group as an avid supporter and Gold Sponsor of the 2021 webinar series, Artesia Consulting as a Silver Sponsor and Morrison Water Services as a Bronze sponsor.