Global Leakage Summit 2015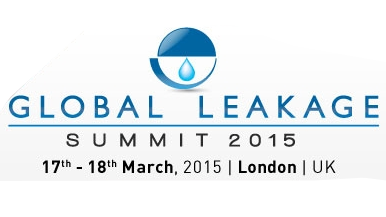 The 7th Global Leakage Summit is the world's premier global summit, designed to help water utilities develop faster and more efficient leakage management systems , that go beyond economic levels of leakage and reflect the true value of water and supply delivery targets.
As an international platform for leakage practitioners, and all those in the business of delivering improved efficiency for their particular water utility, the 6th Global Leakage Summit, held in London in 2013, drew in over 35 world-wide practitioners, from industry leaders such as; Suez Environnement , Paris ; Vienna Waterworks , Austria ; Thames Water , UK ; Phnom Penh Water Supply Authority , Cambodia ; and many others.
Directors , Heads , VPs and Managers of water solutions, network infrastructure, leakage, operations, engineering, business development, technology, and specialists in modelling and design, from Chile , Portugal , Brazil , Israel , USA , Canada , Zambia , Slovenia , South Africa , Qatar , Malaysia , Japan , Norway , among others, traveled into London from across the globe to take part in this prestigious summit.
It proved to be a high quality information-sharing summit for delegates , at both a technical and strategic level, and addressed how new concepts and technologies are being deployed for leak detection, pressure management and network optimisation, to cost-effectively address water stress and water scarcity challenges worldwide.