Global Water Summit 2014: Water for Growth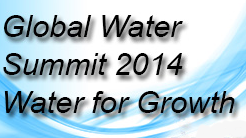 For 2014, the Global Water Summit returns to Paris, France - Europe's long-established centre of trade and culture. The theme is growth and will focus on water 's key role in economic recovery and its development as we move towards 2050.
We'll see what we can learn from Asia, where India and China have experienced phenomenal growth in recent years and we'll take a special look at the oil and gas industry and the opportunities for energy and water reuse . We'll study the crucial role of water in every part of life, for our communities and for our businesses. In particular, we'll look at the future of our cities and how leadership and international cooperation can play a vital part in securing economic and social stability. The Summit is a forum for new ideas and debate, a meeting of minds in which attitudes towards water, its stewardship, finance and distribution will be redefined. We gather together the world's leaders - our Ministers, top executives and best practitioners - to determine water's key role in the future of sustainable economic growth. Come to Paris. Join water leaders and captains of industry in meeting economic and political leaders from all over the world.