IE expo 2015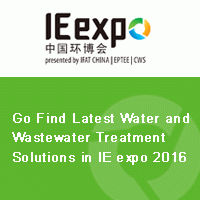 As the Asia's leading environmental show, IE expo offers an effective business and networking platform for Chinese and international professionals in the environmental sector and is accompanied by first-class technical-scientific conference program. It is the ideal platform for the professionals in the environmental industry to develop business, exchange ideas and do networking.

Along with the increased market demand and big support in the environmental industry from the Chinese government, the business potential in the environmental industry in China will be huge. Undoubtedly, IE expo 2015 will be a "must" for the environmental players to exchange ideas and develop their business in Asia.

IE expo 2014, which was held in the Shanghai New International Expo Centre (SNIEC) from May 20 to 22, once again underlined its position as the number one environmental technology show for China and Asia. In IE expo 2014, there were 880 exhibitors from 23 countries presenting their lasted product and solutions in the environmental area to more than 38,000 trade visitors from 68 countries.
IE expo 2015 will take place from May 6 to 8, 2015 in Shanghai New International Expo Centre, which will cover all the high potential markets in environmental area:

· Water and Sewage Treatment
· Waste Management
· Site Remediation
· Air Pollution Control and Air Purification
Don'tmisstheopportunitytomeetthekeyplayersandyourcustomersinIEexpo2015!