India Industry Water Conclave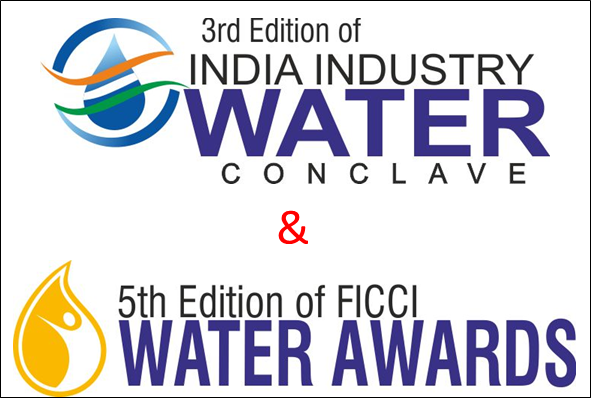 3rd Edition ​​of India ​​Industry Water ​​Conclave ​​
&
5th Edition ​​of FICCI Water ​​Awards ​​
Rescheduled to ​November 28th, ​2017​
The FICCI Water Mission was constituted in 2011 to advance policy dialogue and thought leadership in water use efficiency. The Mission in the last six years has focused on sharing success stories in water and wastewater management, conservation and efficiency sectors in order to encourage corporate and industry players to imbibe a culture of water conservation within their organizations. The Mission focuses on policy advocacy and thought leadership in both industrial water use efficiency and urban waste water management, with the objective of facilitating Public Private Partnerships (PPP) and sensitizing stakeholders on good business models and good practices.
It has also instituted the Annual Water Awards since 2012 to recognize exemplary contribution to water conservation and management by various stakeholders. The Awards were further extended to a full-fledged Conference titled ' India Industry Water Conclave and Awards ' from year 2015.
The Conclave provides a platform to showcase best practices, deliberate on policy issues and highlight sustainable water management practices.
The Conclave focuses on the aspects of water conservation, management and sustainability
Challenges that corporates face in addressing the water issues
What role Indian industry sees for itself in the emerging scenario
Enablers that will help address these challenges
Opportunities that they can harness by aligning their business in a sustainability paradigm
The conclave brings together diverse stakeholders from the corporate sector, government, academia, non-governmental organizations, civil society, and financial institutions on a common platform for water conservation and management.
The Conclave theme for this year is 'Water Use Efficiency: An Imperative for India' with focus on the Industry, Agriculture and Urban sector. For registration and more details visit: www.indiaindustrywaterconclave.com
To participate, please write to: watermission@ficci.com
For Information and Queries, please contact:

Ms Swapna Patil
Senior Assistant Director
Water Division
FICCI
T: +91-11-23487480
Email: swapna.patil@ficci.com