India Water Week 2015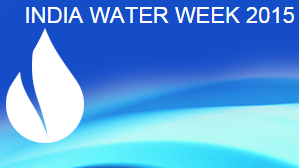 The India Water week 2015 is proposed to be organized during 13-17 January 2015 at New Delhi. The Inaugural Function and Plenary Session will be organized on 13th January 2015 at Vigyan Bhawan. Hon'ble Prime Minister has been requested to inaugurate the event. The Conference and Exhibition will be organized at Pragati Maidan during 14-17 January 2015. The Valedictory Session is proposed to be held on 17th January at Pragati Maidan. The main theme of India Water Week 2015 is "Water Management for Sustainable Development"
The various sub themes are:
Water for sustaining life (covering topics such as rivers and health of people, ethical values in water resources development and management, rejuvenation of rivers etc.)
Water management for sustainable agriculture
Sustainable drinking water supply
Sustainable urbanization and water related issues
Sustainable industrial development and water
Multi-sectoral and cross cutting issues in water resources management
Stakeholders cooperation for water sustainability
Water for sustainable energy development
Each sub-theme will have a mix of seminars, panel discussions, brainstorming sessions, case studies and / or special events. The identified events tentatively include 15 seminars, 13 panel discussions, 10 brainstorming sessions, 6 case studies and 3 special events
The Ministry have specially selected this theme in line with Sustainable Development Goals 2015 being finalised by UN have been taken up by the Government in the area of improvement of water management for sustainable development. Overview of the initiatives taken is given here.
Each of the stream will run in parallel for the duration of the conference i.e. 4 days and each stream will have a set of sessions/ panel discussions/ brain storming sessions/case studies running in parallel on each day. For more details, visit our Programme page.