International Conference on Agriculture and Forestry 2014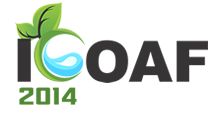 The International Conference on Agriculture and Forestry ( ICOAF 2014 ) is very important platform for everyone to discuss and further studied critically important topics relating to Agriculture and Forestry . The conference itself opens extensive opportunities for participants to present their valuable findings in front of truly international audience while getting networking with each others.
The Agriculture and Forestry Conference's program consist of interactive presentation sessions, keynote presentations from expertise in the Agriculture and Forestry field, case studies and social events including cultural show and networking dinner together with post conference tour. Moreover participants can explore the beauty of Sri Lanka and enjoy Sri Lankan hospitality and famous spicy foods from ancient traditional menus. Most importantly, you may meet world-class, researchers, scholars and professionals, industry leaders. Sessions will bring researchers from across the globe together to discuss broad questions of common interest and provide a platform to establish relationships with new colleagues.
The International Conference on Agriculture and forestry 2014 examines and discuss number of interesting and important research areas such as Agriculture economics and Business Management , Sustainable Agriculture , Insect Pest Management, Plant Biotechnology , Soil and Water Management , Molecular Plant pathology , Agriculture and Climate Change , Hydrology and Water Resources Management , Organic crop production, Quality Improvement of Plantation Products, Food Safety and Security, Animal Production and Foresting .
ICOAF 2014 invites researchers, scholars and professionals to submit their abstracts relating to the conference theme. The Conference organizing committee also welcomes virtual presentations and poster presentation for the conference.