International Exhibition WATER & HEAT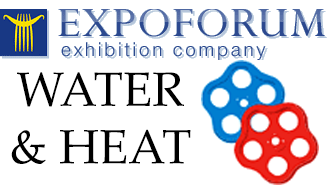 ORGANIZER: "EXPOFORUM" Exhibition Company with the support of the Ministry of housing and communal services, the Ministry of natural resources and preservation of the environment of the Republic of Belarus.
VENUE: 27 Y.Kupala str., National Exhibition Center, Minsk
STATISTICS 2013: 192 companies and enterprises from Belarus, Denmark, Estonia, Germany, Hungary, Italy, Latvia, Lithuania, Poland, Romania, Russia, Turkey, Ukraine, and United Kingdom took part in the exhibition. At exhibition have been registered 5582 visitors.
Also, traditionally within frames of exhibition " WATER & HEAT " will be held international congress "WATER'2014" on problems of water supply, drainage, and water treatment; where will be held discussions about innovate technologies ; experience exchange between specialists; information accordance about government.
MAIN DIVISIONS OF "WATER & HEAT"
Drilling of water: wells, drilling rigs, well filters
Water treatment and water purification: technologies, filters, reagents, analytical and laboratory equipment, water deironing, softening, desalinating and demineralizing systems; membrane systems, water meters, household water filters; drinkable water, bottling
Water disposal and sewage treatment: storm-water inlets and water-ways; technologies, equipment and materials for sewage treatment, sewer purification units; quality control and sewage meters; dewatering technologies and the use of sewage slime
Projecting & design; construction, mounting, plumbing, repair and special works; special editions
Sanitary engineering: equipment and accessories for kitchen, bathroom and toilet; mixers and taps; showers and steam-rooms, saunas, bath-houses and accessories; instant boilers; whirlpool systems