International SAP Conference for Utilities 2017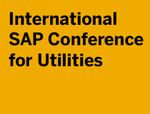 SAP and T.A. Cook are delighted to announce that a sneak preview of the brochure for the annual International SAP Conference for Utilities is now live and available to download.
At this event you will hear first-hand how SAP customers are staying ahead of the curve with a variety of sessions from strategic keynotes, to solution roadmaps, global customer case studies, and deep dive workshops. With over 17 hours of interactive content and over 12 hours of undiluted networking time, our event represents a truly unique and world class learning opportunity.
With attendees from across the globe, networking is at the heart of our 2017 event. Customer case studies are all built with time for Q&A, while each track will close with the opportunity to talk to our speakers in our 'meet the experts zone. Also take the opportunity to join our SAP and Business Innovation tracks, where experts will lead a variety of interactive sessions.
Ensure you stay ahead in this dynamic and fast moving industry, by bringing the reality of energy transformation to the forefront of your business. The 2017 event will prepare you for the strive towards cleaner, smarter energy while adapting to the changing role of the customer by showcasing new technology on offer. This conference will equip you with the tools necessary to remain competitive in a globalized and ever changing business environment, allowing you to embrace the digital transformation.
In order to enhance cross-industry networking opportunities, we are also happy to confirm that this year's event will once again be co-located with the International SAP Conference for Oil and Gas. Our shared exhibition will feature numerous SAP partners, including this years' Diamond Sponsor, Accenture.