International Water Summit 2015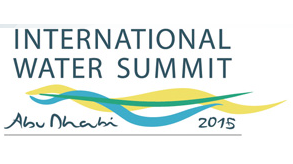 The International Water Summit (IWS) is a unique global platform for promoting water sustainability in arid regions. IWS brings together world leaders, field experts, academia luminaries and business innovators to accelerate the development of new sustainable strategies and technologies .
Held under the patronage of H.H. General Sheikh Mohammed bin Zayed Al Nahyan, Crown Prince of Abu Dhabi and Deputy Supreme Commander of the UAE Armed Forces, IWS will continue to foster innovation , best practice and collaboration to offer tangible solutions to the pressing issue of water scarcity .
Hosted by Masdar and organized by Reed Exhibitions, IWS 2015 is endorsed by the UAE Ministry of Environment and Water, Abu Dhabi Water & Electricity Authority, the Environment Agency of Abu Dhabi, the Regulation and Supervision Bureau, and Abu Dhabi Sewerage Services Company.
IWS 2015 will be held at ADNEC from 19-22 January.