IWA Water, Energy and Climate Conference 2014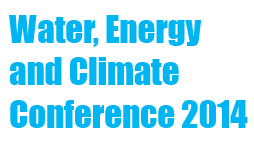 Solving the interlinked challenges of urban water , energy and climate is critical for cities of the future to prosper. The IWA Water, Energy and Climate Conference 2014: Solutions for Future Water Security (IWA WEC) is an opportunity to bring together knowledge from across the globe to share experiences and information, enable collaboration and build new partnerships,discussion of cutting edge solutions to the world's water and energy issues, while also addressing approaches to sustainable and effective adaptation throughout the water sector.
Considering the current situation of Latin America in the urban water, energy and climate aspects, the IWA WEC Conference will be organized in Mexico City,with the local support of ANEAS (Asociación Nacionalde Empresas de Agua y Saneamiento de Mexico - National Association ofWaterand SanitationUtilities in Mexico) and CONAGUA (Comisión Nacional del Agua - National Water Commission) as national partners.This will provide a unique opportunity to learn from exciting regional innovations to face the coming challenges.