K 2016 The World's N°1 Trade Fair for Plastics and Rubber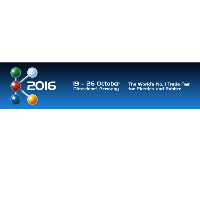 K 2016 - The World's N°1 Trade Fair for Plastics and Rubber
The trade fair K 2016 is already open in Dusseldorf to present the industry's innovations and new launches.
This event called 'Plastic shape the future' includes keynotes speeches and panel discussions on Plastic Industry 4.0, New materials, Lightweight Design, Marine Litter , Youth and Education, Plastics meet Design and Resource efficiency.
Experts from around the worlds are present at the show and discuss the economic, social and environmental challenges and potential solutions.
During K 2016, over 30 tonnes of plastic waste accumulated at this event will be processed live during the show on Erema's recycling system to make high-grade recyclates.
"Every tonne of plastic that goes to landfill is a waste. It is too valuable a resource to go that way", Patrick Thomas, chairman of Plastics Europe, said.
"Plastic should never find its way into the sea", he added.