Let's transform the way you create budgetary proposals.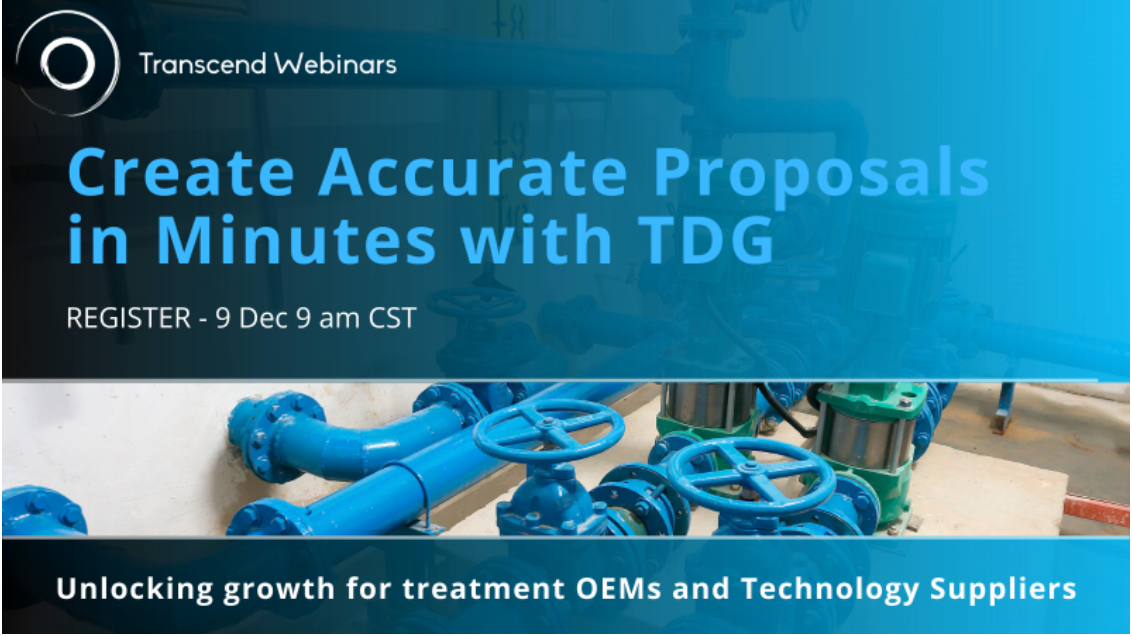 Let's transform the way you create budgetary proposals.
December 9th
9:00am CST / 4:00pm CET
Water & wastewater treatment companies often find engineering design quickly becoming the bottleneck for getting high-quality, standard proposals to their customers… with the level of detail and SPEED 21st-century customers expect. Because sales reps aren't able to access engineering design tools or they are far too cumbersome to use, water and wastewater OEM's lose deals or make more 'no-go' decisions on projects they would like to 'go' on, simply because their engineering teams don't have capacity to generate as many proposals as required.
Growth is challenging.
What if we showed you a way to make your existing budgetary proposal process go much faster? In this webinar, we will discuss how design automation tools can enable business growth, without spending resource-limited and costly sales engineering hours.
Transcend Design Generator was built to support your budgetary proposal process.
Sahil Chaini, our Customer Success Leader, and two veteran Transcend team members, Imre Toth and Adam Tank, share a peek behind the curtain — demoing an easy-to-use platform that will make your budgetary proposal processes easier than ever.
Here's what they'll cover in 1 hour:
Please submit your contact information and we will send you the webinar link.
Thank you!
SUBMIT
Try it for yourself before the webinar! Click below for a free project credit.
Industry overview and business challenges of OEMs and Technology Providers
Use cases and experience from our current clients
How TDG can fit into the business processes
Demo of Transcend Design Generator
Configuration options for Enterprise customers
Interactive Q&A