Malta Water Week 2015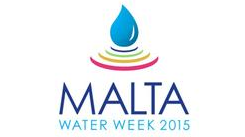 Come to Malta and meet the Mediterranean Get Insights, Perspectives and Solutions
Malta Water Week takes the heart of the Mediterranean as its starting point, using a public-private focus to generate business, collaborations and partnerships looking at innovation in water management solutions, technology and practices. Europe's leading organisations, regions, agencies and experts will converge on the Maltese Islands aspiring to create an open European
Platform for EU excellence in efficiency in urban water management.
Join a leading Mediterranean water event featuring a number of activities:

Malta Water Week comprises a variety of events looking into innovation in water-management solutions and technology, novel financing ideas in water and expert intervention.

Participants in this leading European event will have the opportunity of joining, learning and sharing their insights in all the following events:

Conference
Training
EU Brokerage
Participation in EU Projects
B2B & B2C
Investment Brokerage
Exhibition
Site Visits

Meet Governments and Regions

Malta Water Week brings together various participants from the United Kingdom, Spain, Israel, France, Germany, Malta, Italy, Belgium, Hungary, Portugal, the Netherlands, Greece, North Africa and Jordan, amongst others.

This establishes for all participants and partners an international showcase of best practices in water and an opportunity for the sharing of innovative solutions across a platform for excellence.

A show case of best practices in water management

Malta Water Week is a leading water event focusing on business opportunities to meet the challenges of efficient and sustainable water management.

Here you will find technological innovations, businesses and best practices to address current and future challenges.
Join, Share, Learn!
Conference

A prominent panel of international experts will be delivering key note speeches on the following thematics:

Smart Water Infrastructures and Innovative Water Technologies
Water Reuse and Water Education
Innovative Financial Solutions in Water

A distinguished audience comprising local and international stakeholders will be taking part in the conference leading to an interesting exchange of perspectives on current and future challenges and cutting edge solutions.

The conference will be opened by Hon. Konrad Mizzi, Malta's Minister for Energy and Conservation of Water

These sessions will be delivered by leading and successful water clusters from Europe and beyond as part of the Water Efficiency in European Urban Areas project (WE@EU - FP7, www.weateu.eu ).

B2B and B2C

Creating opportunities for B2B and B2C with leading companies in water-management solutions and exploring opportunities for collaborations and partnerships.

Investment Forum

Investors from European Business Angels networks, Venture Capitalists and fund managers will be participating to assess business proposals in water management from the local and international community. Business proposers will be coached and mentored in delivering an effective business pitch.

Training

Participants joining in the Training event will benefit from coaching on:

Cluster creation & management
Exchange of best practices on water management

EU Brokerage Event

EU funding opportunities will be addressed through this event with an emphasis on upcoming and future calls in water.
The Organisers: Paragon Europe
(www.paragoneurope.eu)
Paragon Europe is a Maltese organisation with a wide range of expertise and activities, focused on providing excellence through innovation and specialised in the provision professional and quality services to both local and foreign clients.
Paragon is organising this event as a partner and within the margins of the Water Efficiency in European Urban Areas (WE@EU) project.

This event is supported by:
Global Water Partnership-Mediterranean
European Business Angels Network
EIP-Secretariat
Climate-Kic
European Regions Research & Innovation Network
Sustainable Energy and Water Conservation Unit(Malta)

Water Services Corporation (Malta)
Malta Resource Authority
Sustainopolis Belgium
Ogilvy & Mather
Air Malta
The Water Network TWN (Media Partners)
The Destination: Meet the Mediterranean
Malta has faced considerable challenges in water throughout its history. Since its independence from British rule in 1964 it has made significant progress to become a leading, vibrant economy which has remained buoyant in the face of the financial recession of 2008.
The challenges in meeting the absolute scarcity of water in Malta resulted in the undertaking of having a significant water management programme. This has led to best practices being developed to meet the industrial and community needs, further compounded by an ever increasing tourism demand.
See the full programme and register on: www.maltawaterweek.eu
Participation in all activities is free of charge. Early registration is highly recommended.
Contact Details
Malta Water Week Website: www.maltawaterweek.eu Registrations: sara.meli@paragoneurope.eu