NGWA Groundwater Expo 2015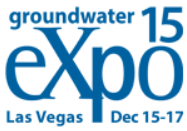 Expo — The Complete Groundwater Event — is heading back to Las Vegas December 15-17 this year!
The NGWA Groundwater Expo and Annual Meeting is the one event that brings together all sectors of the industry — water well contractors and drillers, equipment manufacturers and suppliers, scientists and engineers — to explore everything groundwater -related.
From the newest products and services in the exhibit hall to educational opportunities covering everything from drilling operations and well construction to groundwater availability and sustainability , you'll find it at the 2015 Expo!