Ozwater 2015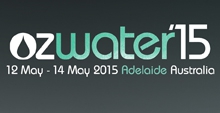 "WATER FOR GROWTH AND PROSPERITY"

Australia has many unique advantages including our world-class resources, proximity to Asia, a temperate climate and the distinct opportunity of growth industries including agribusiness, mining, and tourism. However, for all these industries to prosper they require one vital element - water.
Safe water. Secure water. Sustainable water. Access to water.

Many challenges lie ahead for the water sector in managing water in urban, regional and rural contexts. We need water professionals and organisations to step-up and lead innovation, debate and provide technical know-how across the broad scope of water and wastewater management to ensure we harness these opportunities, both domestically and overseas. Ozwater'15 will once again attract national and international speakers, and delegates, to attain a new wealth of industry knowledge and cultivate strong and applicable ideas to ensure the longevity of our greatest resource .

Ozwater'15 will be held in the newly expanded Adelaide Convention Centre, opening up an additional 4,300sqm of space with state of the art facilities to ensure your Ozwater'15 experience is of the highest quality.