PIANC World Congress 2014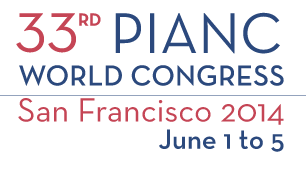 The U.S. Section of PIANC ( World Association for Waterborne Transport Infrastructure ) is proud to announce that it will host the next PIANC World Congress (2014) in San Francisco, California. Congresses are held every four years and are not restricted to members of PIANC. Anyone with a professional interest in navigation , waterways and ports is welcome to attend as a delegate.
The PIANC 2014 World Congress is an invaluable opportunity to network and discuss your products and services with key industrial, governmental and academic officials from numerous nations. The conference schedule allows for multiple opportunities for attendees to visit the exhibition hall and learn more about the broad array of products and services available to help them be more effective.