Residuals and Biosolids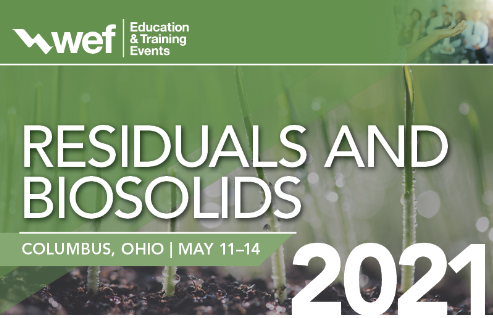 May 11, 2021 - May 14, 2021
Conference: May 11 - 14 | Exhibition: May 12 - 13 | Greater Columbus Convention Center | Columbus, Ohio, USA
This conference is held by the Water Environment Federation in cooperation with the Ohio Water Environment Association.
Save the date for the 2021 Residuals and Biosolids Conference!
We are excited to announce that the 2021 Residuals and Biosolids Conference will take place in Columbus, Ohio from May 11-14.
Save the date and plan to experience a robust program highlighting continued advances in the wastewater residuals and biosolids sector. Potential speakers are invited to submit an abstract for podium presentation, workshop, virtual presentation, or exhibitor mobile session.
The official Residuals and Biosolids Conference hashtag is #WEFBiosolids. Be sure to use it in your social media posts, and RSVP to the Facebook event!
The Call for Abstracts for the 2021 conference is now closed.
More information on the technical program is coming soon!