RetrofitTech KSA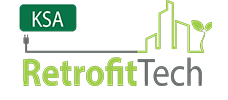 As Saudi Arabia continues to diversify its economy beyond oil exports, energy intensity of the economy has grown. In order to conserve oil resources for the future generation, a key focus of the government and industry leaders is to reduce the energy intensity growth through policy, management and technology measures.
Electrical energy consumption in Saudi Arabia has increased sharply during the last two decades due to rapid economic development. An estimated 73% of the electric energy generated in Saudi Arabia is used for operating buildings and 65% of this energy is consumed by air conditioning. Peak loads are expected to approach 60GW by 2023 and the total investment needed to meet this demand may exceed $90 billion.
RetrofitTech KSA 2016 will discuss the upcoming opportunities, strategies and challenges for retrofitting and refurbishing of existing buildings to reduce electricity and water usage. The event will give an update on KSA's national energy efficiency program and gather regional and global industry experts to share case studies on the mechanisms and strategies to achieve the desired reduction in energy demand and increase in ROI.
Topics to be discussed include KSA's retrofitting opportunities and share regional and global regulatory, financing and legal frameworks, as well as technologies for successful retrofitting programs.