RetrofitTech UAE 2017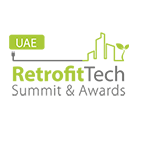 The 2nd Annual RetrofitTech UAE was a resounding success. Under the patronage of Dubai Electricity & Water Authority and officially supported by the UAE Ministry of Energy, Supreme Council of Energy, Dubai Municipality, Etihad Energy Services and the Dubai Department of Tourism & Commerce Marketing, the conference gathered 300+ attendees to discuss the UAE's multi-sector retrofit programme and opportunities associated with the Emirate-wide adoption of energy efficient technologies.
The conference opened with keynote addresses from H.E. Saeed Al Tayer, CEO, DEWA , H.E. Dr. Matar Al Neyadi, Undersecretary, Ministry of Energy – UAE and H.E Ahmad Al Muhairbi, Secretary General, Dubai Supreme Council of Energy. Over the two days, attendees discussed government and private sector initiatives towards a sustainable Dubai as well as strategies and the latest innovations to enable the implementation of an effective retrofit programme.
Join us at the 3rd Annual RetrofitTech UAE to identify the project opportunities across the UAE and find out the strategies and the latest technologies which can help you in achieving energy and water efficiency savings.
RetrofitTech UAE 2017 conference will give insight on the progress of the programme and provide an update on the retrofitting strategy across UAE. The conference will highlight the latest project opportunities for retrofitting government buildings, as well as the buildings within the commercial, retail, hospitality, healthcare, education and industrial sectors, and the best practice retrofitting strategies.
The event will also discuss future financing models, regulative frameworks and requirements as well as showcase the latest technologies and products for use in retrofitting to achieve energy savings and ROIs.