Smart H2O Summit 2015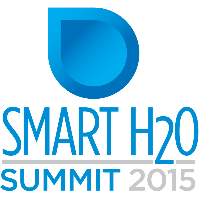 As North America faces major challenges in modernizing and improving the efficiency of its water supply and infrastructure , Smart H20 Summit will stand as the venue that addresses the urgent need for revitalization. Bringing together suppliers of the most innovative equipment, solutions, and technology available, the C-level executives, engineering and design professionals, and scientific/research personnel will inherently understand the opportunities set forth and the course that must be taken.
Information exchange will take place on the exhibit floor, in the conference session rooms, and in the Smart Solutions Theater on the show floor. We will focus on the new technology and investment needed to update the infrastructure, giving practical information on cost-effective ways to improve your operations for the long term. This event to bring togetherthe mostinnovative and influential thought leaders in water infrastructure. Anchored by conference and training programs that offer MANAGEMENT, OPERATIONS & TECHNICAL SOLUTIONS TRACKS, the summit will focus on water and sewer infrastructure , longer term water supply availability and desalination, financing for capital improvements, the impact of big data on this resource, as well as public understanding of water resources, systems and services.