Smart Water Systems Conference 2023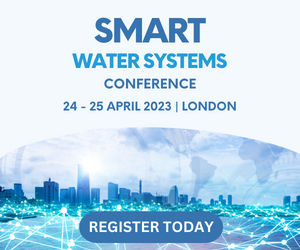 SAE Media Group Group are proud to announce their 12th Annual Smart Water Systems conference will be returning to London, UK live and in person on the 24th and 25th April 2023.
The smart water industry is rapidly expanding with novel innovations continually being developed in the pursuit of reducing water wastage, managing costs, and increasing water network efficiency. The aim of the conference is to address these key drivers whilst also providing networking and collaboration opportunities to advance the field forward.
This year we see the industry continue to implement new strategies as development of complex smart water systems continues. Novel innovations across the field will be assessed in the hope to obtain more consumer data and ensure it is utilised to the highest efficiency. Artificial intelligence remains at the forefront of the smart water landscape with consistent developments in the field such as digital twinning and other modelling technologies.
Join the conference in April 2023 to gain real insight and learning experiences from water companies leading the way in European smart water and innovation including Thames, Northumbria, Anglian Water and many others. The two-day agenda offers you peer-to-peer networking with leaders in the Smart Water Market
BENEFITS OF ATTENDING:
• Explore cutting-edge innovations in novel smart metering technologies to increase water management efficiencies
• Assess the next generation of digital leakage detection techniques in a bid to reduce water wastage and improve operational expenditure
• Engage in the latest developments for advanced smart water innovation through strategic partnerships and the Ofwat innovation fund
• Expand on strategies for streamlined asset management and full-scale data utilisation using AI system development
• Benchmark with case studies of European smart water systems from a metering, asset management and leakage prevention perspective