Sustainability of Agricultural Water Management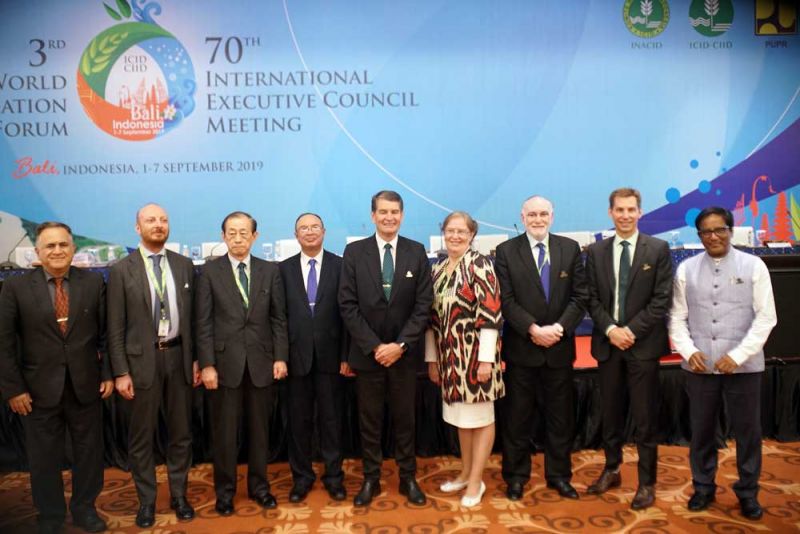 It is with great pleasure I wish to inform you that the International Commission on Irrigation and Drainage (ICID), a well-established scientific and knowledge dissemination network consisting of more than 75 member countries that represent 90% of the global irrigated area, celebrates its Foundation Day on 24th June every year. But due to COVID-19 situation and considering restrictions on social gathering and restricted movement this year we have decided to virtually celebrate 72 nd Foundation Day on 24th June 2021.
As a part of ICID Foundation Day celebrations we are organizing an international Webinar on the topic "Sustainability of Agricultural Water Management under difficult circumstances". A tentative agenda for the programme is available for your kind reference at Tentative_program_-72_Foundation_day.pdf
ICID, established on 24th June 1950, strives to promote policies and programs to enhance sustainable development of irrigated agriculture through a comprehensive water management framework. During 72 years of its operation, ICID constantly moved forward from its focus on mainly engineering aspects in 1951 to include social, environmental, economic and sustainable agriculture development aspects. Keeping in view the impact of climate change and other development parameters on water security and with the adoption Sustainable Development Goals (SDGs) by UN in 2015, ICID adopted its new Vision 2030 - Water secure world free of poverty and hunger through sustainable rural development. During last 72 years of its operation ICID has undertaken number of initiatives and programmes such as recognition of World Heritage Irrigation Structures (WHIS), and Water System Heritage (WSH) programme, World Irrigation and Drainage (WID) award, Technical Support Programme (TSP) for its members, Capacity Development Programme of Young Professionals to name a few. For more details on ICID please visit http://www.icid.org/
We request you to join the webinar using the beneath "Click here to join the meeting". Also, please feel free to disseminate the meeting link and details amongst your network (members/ professionals/ young professionals, etc). Due to limitations of slots only first joined 485 participations will be allowed to enter the room on first-come, first-serve basis. For easy joining, the meeting port will be activated 15 minutes in advance to help participants. Dont' miss this chance to participate and interact with world renowned professionals.
The Free webinar is hosted on Microsoft Teams platform , which can be joined using your computer or mobile app.
Tentative program for ICID Foundation
Day: 24 June 2021, 72nd Year Celebrations (Virtual) (Two hours Webinar) Theme: "Sustainability of Agricultural Water Management under difficult circumstances" Date: 24th June 2021 (Thursday) Time: 15:00- 17:00 Time Topic
15:00 –15:10 Welcome address by Prof. Dr. Ragab Ragab, President, ICID
15:10 –15:30 Keynote Address by Mr. Ashok Dalwai, CEO, National Rainfed Area Authority (NRAA), Ministry of Agriculture & Farmers Welfare, Government of India, New Delhi.
15:30 –15:50 Address by Mr. S.K. Haldar, Chairman, Central Water Commission (CWC) and Chairman, Indian National Committee on Irrigation and Drainage (INCID), New Delhi, India
15:50 –16:10 Presentation by Mr. Alok Sikka, IWMI, New Delhi. Topic: "Agricultural Water Management: Building Resilience to Respond to Shocks and Risks''
16:10-16:25 Presentation by Mr. Dan Alluf, Counsellor MASHAV, Embassy of Israel in India, New Delhi. 16:25-16:45 Presentations by ICID National Committees Australia: Mr Momir Vranes "Sustainability of Agricultural Water Management Under Difficult Circumstances – Keeping Ahead ..." Egypt: Dr Gamal Elkassaar- Director of WMRI-NWRC, the Deputy Chairman of ENCID,"The need for Branch Canal Rehabilitation and Modern Irrigation Systems" UK: TBC
16:45 –16:55 Discussions
16:55 –17:00 Concluding remarks by Er. Ashwin B. Pandya, Secretary General, ICID
Click here to join the meeting
An ICID Central Office Virtual Platform