Texas Water 2021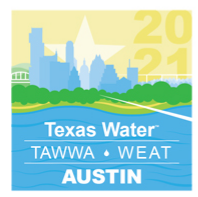 What can you expect at Texas WaterTM 2021 - Virtual?
Our usual, exemplary Technical Program:
We've received commitments from more than 130 presenters to provide us with recorded versions of their rigorously peer-reviewed technical sessions.
The sessions will be made available "on demand" once they are posted, allowing for convenient viewing at any time. You will not have to choose between attending different sessions as you would at an in-person conference. Better yet, all the sessions will remain posted for multiple months after the conference, to provide for maximum viewing flexibility.
We are requesting operator training credit from the Texas Commission on Environmental Quality for most of our online sessions. This is an excellent way to comply with any license training requirements in a safe, convenient setting, all without the cost and hassle of travel. Last year's Texas Water attendees could earn up to 60 hours of operator credit and we are expecting similar opportunities this year. You'll also be able to earn conference operator hours from March 29 through June 25. Professional Engineers can also obtain their self-reported professional development hours, including the requisite one hour of ethics training.
We'll also have our exceptional Poster Presentations to complement the technical sessions.
Many of our Texas Water special events will still be held virtually, such as:
the Opening Session/Keynote Address
the Women of Texas Water session
the Young Professionals recognition event
the Engineering Ethics Course
the Water for People Silent Auction
Dodson's Drive Virtual Fun Run
Curtis Smalley Environmental Event