The Role of Microalgae in Waste–Water Treatment (RMWT-2017) Seminar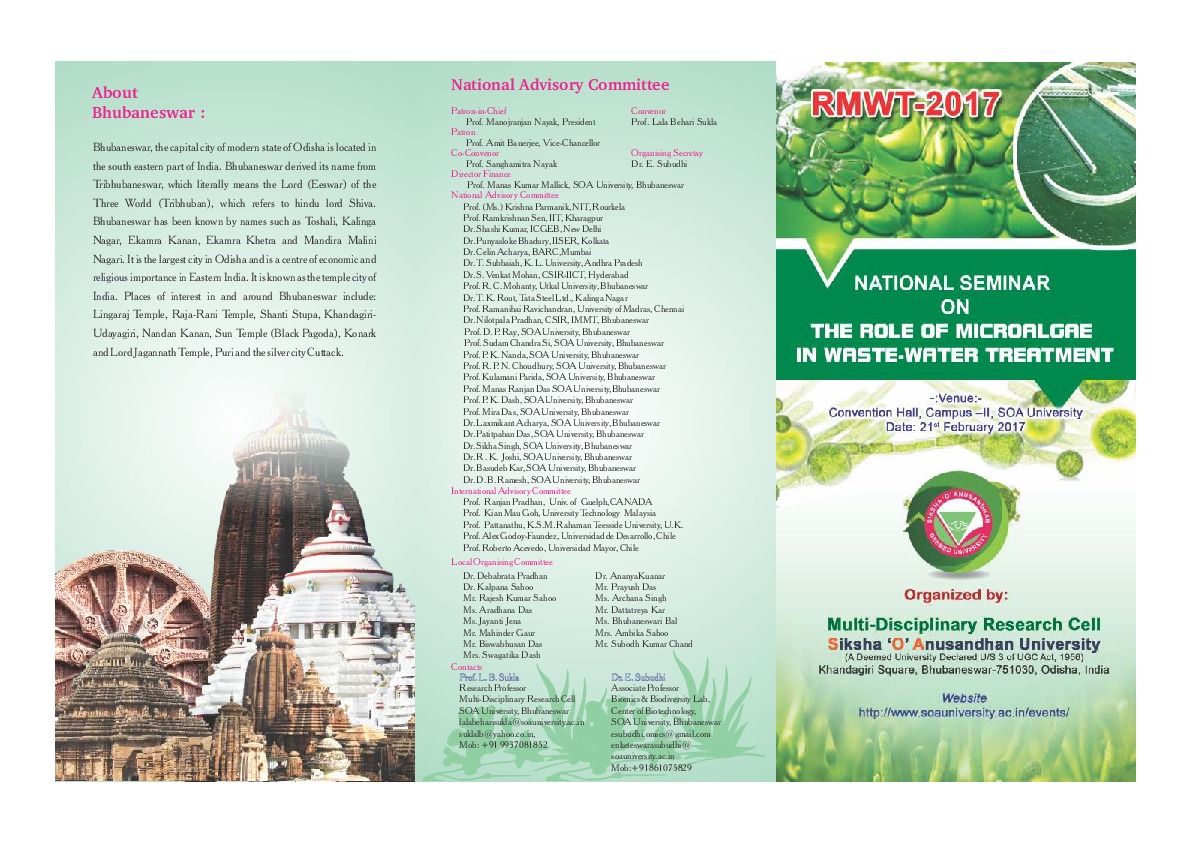 The availability and quality of water resources face severe risks due to civilization, technological advancement, industrialization and rapid economic development. So treatment of waste water gains much importance in recent years with the intension of reuse. The waste water treatment and biomass production have been a regular practice using different algal strains such as Chlorella and Dunaliella for last 75 years. These are due to the understanding for the biology and ecology of large scale algal cultures, as well as in the engineering of large-scale culture systems and algal harvesting methods, all of which are important to the design and operation of high rate algal cultures to produce high value products.
Nutrient rich wastewater instead of discharging into the ecosystem is supplemented for the growth of algae in the wastewater treatment. Thus the discarded nutrients (N and P) can be reused and waste water can be treated results in reducing their negative impacts to the biosphere. Besides, in the present days energy resources pose potential threat to the environment by emitting Greenhouse gases (GHGs). So necessities and requirements have emphasized the need for a renewable and alternate energy source. An integrated process which involves a model of waste water High Rate Algal Ponds (HRAPs) near the industries and municipalties producing contaminated waste water, and establishment of biodiesel plants near to these HRAPs to produce algal biodiesel along with other useful by-products is potentially important. Also waste water HRAPs help in sequestering the CO2 emitted by the industries. The CO2 can be used by the massive microalgae in the HRAPs during photosynthesis in turn providing oxygen to the bacterial population which accumulates and degrades the toxic compounds present in the industrial effluents. This integrated process involving cheaper treatment of waste effluents, production of algal biodiesel, accumulation of toxic compounds, sequestration of CO2 and various other non-fuel applications contribute to an effective energy management system. The Eco-physiology of any algae growing environment can now be understood by establishing correlation between physico-chemical conditions and identification of their algal community structure by genomic and metagenomic analysis through high throughput next generation sequencing methods. Besides, business opportunities for both technologists and the common man exist in these new fields. The objective of the seminar is to provide a platform to the researchers, academicians, professionals and industries for exchange of latest scientific achievements in the field and understand the trends of the technology for future developments.