Virtual Pak Water & Energy Expo 2020 - Pakistan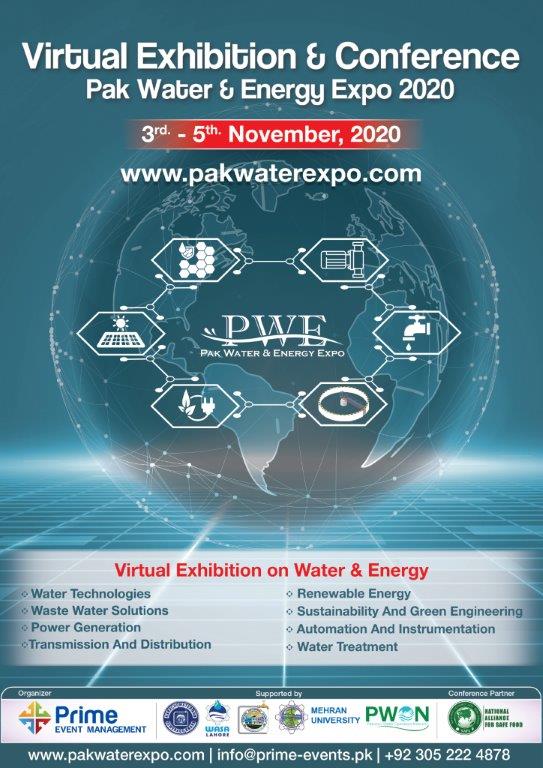 Considering COVID19 safety guidelines, our Next event will be held in Virtual Environment. The event will be held between November 3rd to 5th 2020 between 10-00am to 6-00pm (PST) . For registration, please follow the link: http://www.pakwaterexpo.com/
We have gathered vast amount of data of people who have visited Pak Pharma Expos since 2006 & Pak Water Expos since 2016. We will invite all of them to come and visit Virtual version of Pak Water & Energy expo and have on line interaction with our Exhibitors.
The exhibition is focused exclusively on companies offering Products and Services related to Water technologies, Water Distribution, Water Treatment, Waste Water Treatment, Power Generation, Transmission & Distribution, Energy Conservation Products and Technologies, Power Generation, Power Transmission, Power Distribution Systems, Transformers, Diagnostic Equipment, Solar & Renewable Energy, Energy Management, Metering, Energy Storage, Pumps, Fluid equipment & Meters, Distillation units, Filters, Pipes & Fittings, Sterilizers, UV Systems, chemicals and application usage of water for various industrial and residential applications.
Our digital environment will help you to interact in a virtual environment with the visitors and show detailed virtual view of products and services, have on line chat and video conferencing to clarify their views and share all necessary information.
Other benefits of easy and comfortable presentation of required information and effective engagement with the new people and new customers are there to spread your message and sales campaign.
Virtual event is more cost-effective to participate for both the Exhibitors and Visitors. The time saved by your team in planning a physical event can then be used to focus on content for the visual event.