Water Desalination Symposium Africa 2017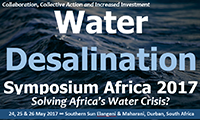 To most African countries, the real headache is where the funds are going to come from? Are P3's the way to go…? Is the corporate world willing to be part of such a project….? Are there proper project management tools in place? Are we getting any expert advice from those already using this method of water purification…? Water shortages in Africa have led to water rationing and this has affected homes and industry, causing a negative impact to the economy, not to mention the spread of diseases.
This Symposium will unwarp innovative ways of tackling water shortages and government initiatives across the continent. Major players from government, industry and commerce will meet to discuss the way forward, to find out if Public Private Partnerships are the solution to the water crisis in Africa. AMC International is proud to present this 2-and-a-half-day Symposium on how best we can tackle this water shortage threatening to wreak havoc to the continent.
It will cover amongst others:
½ day workshop Desalination Process with Boaz Keinan (IDE Head of RO Process Department)
½ day workshop Desalination Plants- Project Management with Rani Meerovitch Director, Special Projects IDE Technologies Ltd
Case Study on Sorek Desalination Plant ( The World's Largest and Most Advanced SWRO Desalination Plant )
Government Funding & Initiatives
Site Visit to eThekweni Water Desalination Pilot Project (The Bluff)
Public-Private Partnerships: Delivering Strategic Solutions for Municipal Water Challenges
SALGA perspective on technology and innovation in SA
The future of desalination in Southern Africa and key factors to consider for investment