Water Knowledge Europe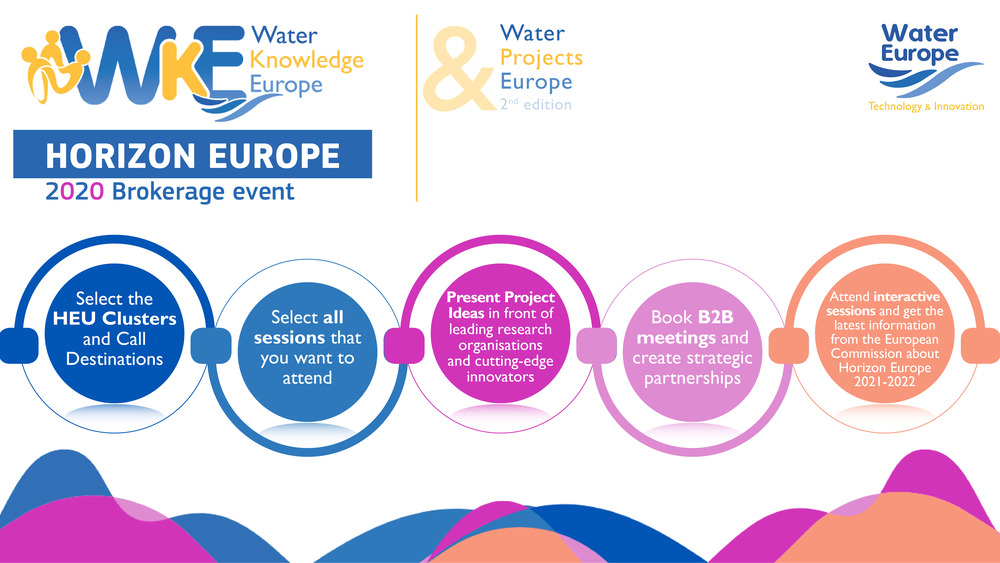 Digital international partnering event focused on EU Framework Programmes for Research and Innovation Calls for proposals in Horizon Europe 2021-2022.
introducing Horizon Europe water-related Clusters and destinations - insights and expectations from the European Commission ;
a unique international networking experience to build the winning partnerships of the future ( create strategic partnerships through scheduled B2B meetings);
exclusive opportunity to present project ideas and expertise in front of leading research organisations and cutting-edge innovators from across the industry.
We will also host the second edition of Water Projects Europe that is a new series of events of Water Europe made to foster collaboration between R&I projects working on specific topics.
Why should you join this event?
Receive the latest information from the European Commission about Horizon Europe 2021-2022
Present your project ideas
Meet with future project partners from across industry and research at our dedicated space for B2B meetings
Keep in touch with the speakers by using the chat and interactive means available now during the live sessions
Join the Horizon Europe Brokerage Event: present your project ideas and discuss with potential partners in face-to-face meetings. Booking meetings is easy and open: you can book meetings immediately after the registration!
An analysis of the future possible water related calls, per each cluster of pillar 2 of HEU, will be made available to members only!
How to register to WKE2020 Horizon Europe?
Register as a Presenting participant (max 10 will be admitted) & fill in all the requested details for your project - Project Ideas registrations are open just until the 30th of November ;
Register as an Attending participant and publish your collaboration wishes;
Browse the participant list and book meetings with other participants of your interest ( meetings will be accepted automatically - you can Cancel what meetings do not suit you from your profile );

WKE2020 fees (including VAT)
Water Europe Ambassadors: 45 € (*all sessions access)
Water Europe Members (attending & presenting participants): 65 € (*all sessions access)
Water Europe Non-members (attending & presenting participants): 95 € (*all sessions access, except the WG meetings dedicated to members)
EU officials participation is free of charge