Water & Long-Term Value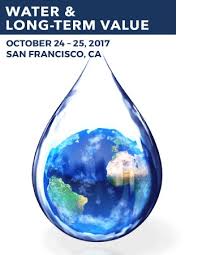 Water & Long-Term Value
Explore the role water plays in company performance, why investors care and how your company can benefit from stewardship
October 24-25th - San Francisco, CA
The With increasing occurrences of water crises plaguing industries across the world, it's become apparent that the global community is in need of an aqua intervention. Water & Long-Term Value is a two day conference that convenes company executives, institutional investors, and capital experts to discuss how corporate water policy and practice affects performance, ratings, and access to capital.

The program seeks to help companies discover adaptive techniques regarding pressing issues threatening to derail water supply chains, such as water scarcity and rising sustainability costs. Water management is an inevitable reality of our current social, economic, and natural climate that must be dealt with accordingly.

An impressive roster of experts will share their experience and knowledge, covering several critical topics related to water resources. Take a look at the full list of speakers and the final agenda. .