Water Management and Nano Energy Summit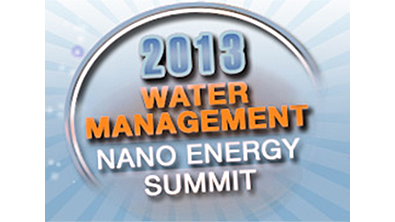 2013 Water Management And Nano Energy Summit will take place on November 13 & 14, 2013 at Rice University's Shell Auditorium in Houston, TX. THE SUMMIT is a gathering of the world's leading experts who are generating cutting-edge technological solutions for challenges in the water and energy sectors.
Produced in partnership with the Water Innovations Alliance, WATER 2.0, the NanoBusiness Commercialization Association, the Rice Alliance, and the Smalley Institute at Rice University, THE SUMMIT will feature prominent speakers from industry, government, finance and academia.
THE SUMMIT will address state-of-the-art innovative solutions to decades-old problems in the water and oil and gas sectors. These pioneering technologies are emerging rapidly into the market thanks to revolutionary breakthroughs in material science, nanoscience and computational power.