Water Sofia 2016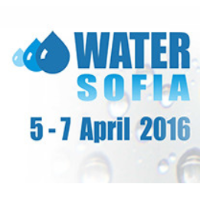 INTER EXPO CENTER, in co-operation with WASSER BERLIN, organize the
10th edition of the international B2B exhibition WATER SOFIA which will take place from 5th to 7th April 2016 at Inter Expo Center - Sofia. The organizers work together on issues impacting water resources management in Bulgaria. They pool their efforts annually to get public officials' attention.
WATER SOFIA is a unique exhibition and the only one of its kind for the water sector
in our country. The problems of how to use water rationally must be solved by the international community and the governing bodies of all parties concerned.
WATER SOFIA has played a significant role over the years in implementing creative solutions to water resource planning and management. It has turned into a forum for
the publication of original contributions and the exchange of knowledge and experience among Bulgarian and international companies. At its edition in 2016, the forum is covering the closely related topics - water extraction and water supply efficient technologies, rehabilitation and construction of sewers, purifying water and wastewater collection systems and related equipment, control and maintenance of water resource systems.
Across the various thematic foci of the three-day event are managing the risks of floods and other different natural events and disaster situations as well as applying the latest communication technologies to water resources rational management in the country.
A conference on water sector development will be held by BWA during the exhibition days. The show is hosting a number of seminars, discussions and presentations stimulating business partnerships.
Along with WATER SOFIA 2016 , there will be held the 44-th issue of BULCONTROLA Exhibition, the 6-th MACHTECH & INNOTECH EXPO , as well as the events - Energy Efficiency & Renewables for SEE Europe and Save the Planet.
We look forward to welcome you among the participants in the technical forum!