Water Summit 2014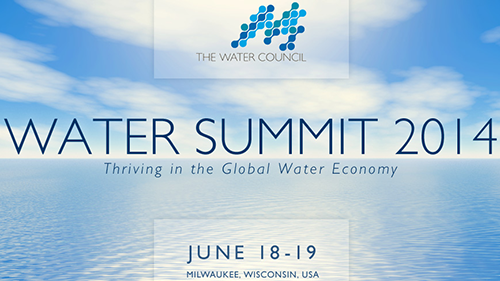 Water Summit 2014:Thriving in the Global Water Market
Water Summit 2014 will explore the opportunities businesses, universities, communities, entrepreneurs, government agencies and non-governmental organizations (NGO) have as Milwaukee continues to thrive as a leader in the global water economy . Building on the momentum from past Summits, we'll examine how to advance in an ever-competitive global water market .Featured topics this year include: water innovation and sustainability , financing and investment , and operating in the global water market.
The Summit's focus continues to be targeted on creating a channel for water professionals to share ideas, provide unique networking opportunities, and discuss global water issues and innovative solutions to advance the future of water technology .
The Water Council is delighted to host the International Water Association 's (IWA) Board of Directors meeting in coordination with this year's Summit, providing Summit attendees with keynote sessions and panel discussions featuringsome of the most knowledgeable people in the world concerning contemporary water issues.
In partnership with the Wisconsin Economic Development Corporation, The Water Council will graduate the inaugural winners and announce the second class of entrepreneurs participating in The Brew, formerly the Global Freshwater Seed Accelerator. The inaugural year of the program was highly successful, as our entrepreneurs gained invaluable knowledge, experience and accomplishments; serving them well, as they become alumni of the program, and mentors to the second class of start-up companies.