Water Summit 2015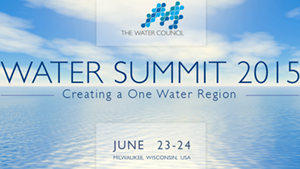 This year's theme, "Creating a One Water Region," focuses on a model that connects and enhances historically independent " water silos " to create a more efficient, effective and comprehensive water system for a region with the priority to improve water quality , knowledge-based stewardship , and water sustainability . Building off the momentum of last year's conference, The Water Council's annual Water Summit continues to be targeted on creating a channel for water professionals from around the world to share ideas, provide unique networking opportunities, and discuss global water issues and innovative solutions to advance the future of water technology .Now in its 8th year, the Summit attracts over 400 water experts and a lineup of international speakers.
Keynotes and breakout sessions will cover hot water topics such as investments, global relief, sustainability, security, infrastructure and more! Attendees will also have access to a preview of the Water Collaborative Innovation Platform - a super-charged, web-based, research, and data dashboard that will foster and enhance partnerships around the world.
We also have confirmed water technology business delegations will be coming from Leeuwarden, The Netherlands and Montpellier, France, both considered leading global water technology clusters.
Additionally, our BREW (Business. Research. Entrepreneurship. In Wisconsin.) water accelerator program will graduate Batch II entrepreneurs and announce the winners of Batch III. We have also invitedWisconsin Governor Scott Walker to return as an honored guest.
This year's Summit will coincide with the 2015 Wetskills Water Challenge , an international collaboration between UW-Whitewater and the Netherlands Consulate General, in cooperation with the Netherlands Office for Science and Technology.
Stay tuned for more exciting announcements and visit our blog to stay up-to-date on Water Council news!