Water Today's WATER EXPO 2016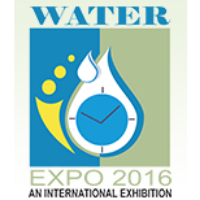 Water Today has embarked into a Jubilee (special anniversary) Edition of WATER EXPO 2016, after successfully benchmarking itself in the water and wastewater industry!
Water Today is India's leading Media and Events Company catering to the Water and Wastewater Industry. Over a decade, Water Today has achieved enormous success in redefining WATER EXPO with the maximum footfalls, contented exhibitors, repetitive participants and increasing qualitative visitor ship, making it the most prominent and the largest International event in South Asia. The tenth edition ensures another promising opportunity for a perfect business and networking platform for the water and wastewater industry professionals and experts working towards a common goal - Profit with Responsibility.
WATER EXPO 2016 and WATMAN 2016 International Conference will be an unrivalled business podium to network, interact with the industry experts, explore business opportunities and succeed in this fast growing industry across the world!