Waterproof Membranes 2014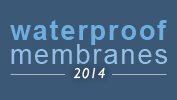 The 8th AMIinternational conference, Waterproof Membranes 2014 ,will takeplace at the Maritim Hotel in Bonn, Germany from17-19 November 2014. The event will start with an evening Welcome CocktailReception onthe first evening followed by a 2-day programme on technical developments and market trends in the roofing and geomembrane waterproofing industry. An exhibition will run alongside the conference.

Waterproofing technology has been established forcenturies from bitumen-based roofing in the hanging gardens of Babylonto thesynthetic materials developed in the lasthundred years. There are now decades of experience withelastomers and thermoplastic materials in roofing and geomembranes. These are now much more multi-functional offeringenhanced product performance withflame retardants for fire resistance, reflective pigments and coatings for thermal regulation, inbuilt photovoltaic energy-generating systems, and vegetation-resistant properties for horticultural structures. There are now more material and installationoptions for underground structures from tunnels to reservoir liners.

Waterproof Membranes2014 provides a globalforum for all companies involved inwaterproofing, including specifiers, architects, civil engineers,expert installers,manufacturers, researchers, materials expertsand suppliers to the industry. The conferenceprovides a debating forumreviewingthe latest technology in membranes and theextensive potential on offer to the building andcivil engineeringindustry.