WaterWorld Middle East (Use TWN-WATER10 code to get discount)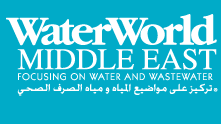 The 3rd annual WaterWorld Middle East conference and exhibition comes to Abu Dhabi, UAE for the first time on 12-14 October 2014. Co-located with Power-Gen Middle East, WaterWorld Middle East will be held at the Abu Dhabi National Exhibition Centre. WaterWorld Middle East is the leading water and wastewater event for the region - attracting industry leaders and decision makers from around the globe.
Register today and get a 20% discount
Early Bird delegate discount - save a minimum of 10% - register before 12 September 2014.
Save a further 10% when you register as a Three-Day Conference Delegate, simply enter this registrationcode on your payment screen: TWN-WATER10