Watrex Expo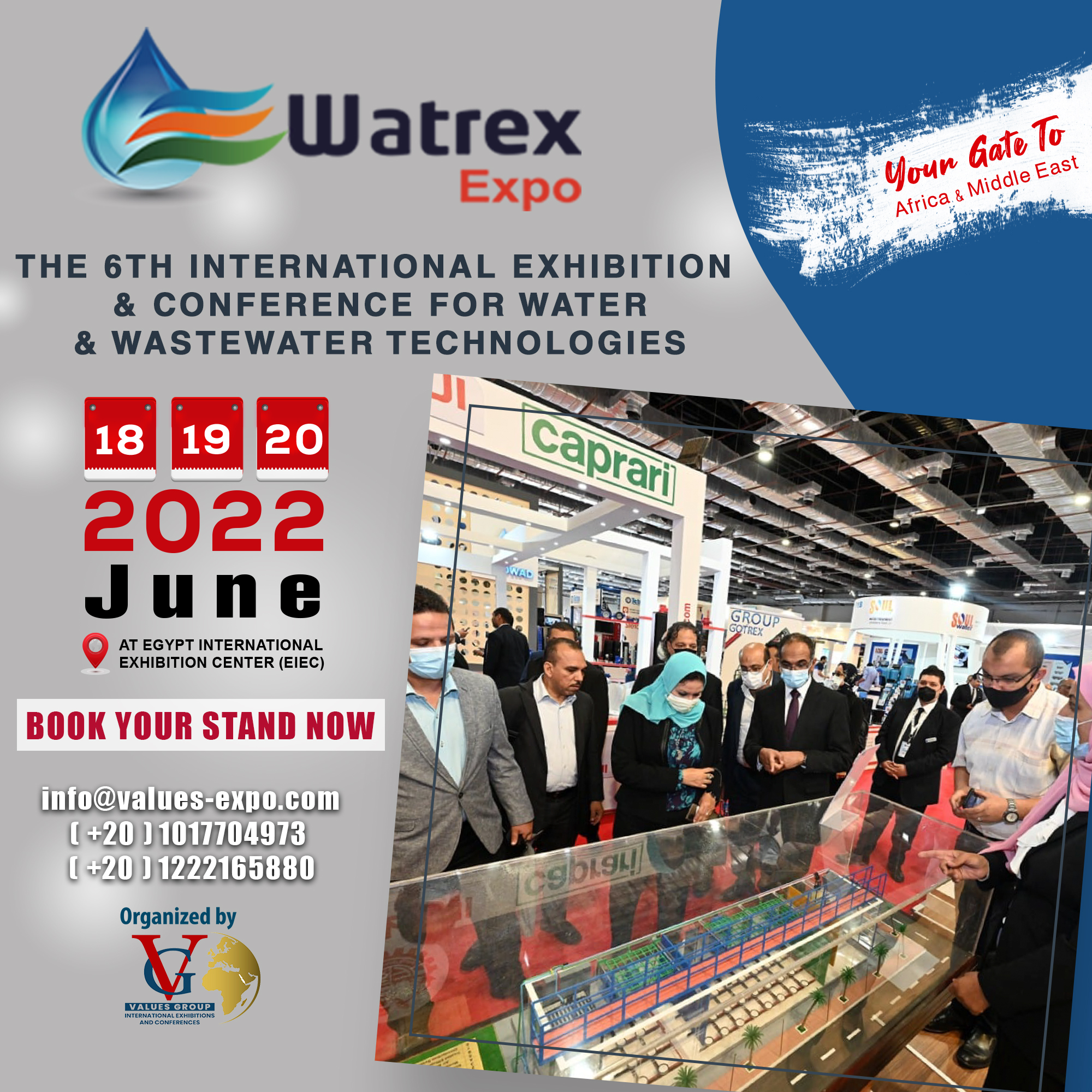 From 18 to 20 June 2022
At
Egypt International Exhibition Center (EIEC)
Watrex Expo is the dynamic international trade exhibition & conference for water & wastewater treatment which provides an exclusive platform that connects trade exhibitors, buyers, and suppliers to potential business opportunities in the industry.
Watrex Expo is also the place to explore partnership opportunities as it promises an outstanding show at minimal cost – a highly way effective way to flood your business to new depths.
Watrex Expo is one of the most unique and comprehensive annual water events in Egypt, Africa, and the Middle East, showcasing the latest technologies in the water and wastewater management sector. Watrex Expo is a perfect gateway for stakeholders from across the globe to penetrate into the vast and dynamic ecosystem of the Egyptian water industry to share business opportunities, network, and explore innovative water solutions.
Watrex Expo will offer unparalleled business opportunities to both national as well as international players from the water industry to learn and explore the future trend of the Egyptian water market.
Watrex Expo will be the connecting point between manufacturing Companies in Europe, the USA, the Far East, and The Importer Countries in The [MENA] Region.
Watrex Expo is the Best Gathering Place in Egypt & MENA Region for all the processes of Water & Waste Water Treatment and Recycling Needs Including The Latest Machinery, Technology, Equipment, Services, Tools, Manufacturers, Suppliers and Maintenance to get updated on the latest technologies, innovations and at the same time, network, share experiences, Arrange meetings with manufacturers looking to upgrade their equipment and build long-term business relationships.
Watrex Expo 2022 is more than Trade Show – it's a Comprehensive, Hands-on, and Networking Event.