Alfred Lipshultz, President at Aquathin Corp.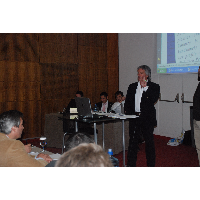 Aquathin manufactures a broad spectrum of unique, having earned 7 patents for water purification, softening and filtration systems servicing the residential, commercial and laboratory markets. For a quick review of our superior Reverse Osmosis Deionization purification efficiency click here http://www.aquathin.com/tech.htm.

Established in 1980 Aquathin now produces over 70 proprietary and trademarked devices for markets around the world through more than 600 Authorized Aquathin Dealers. Aquathin is an E.P.A. Registered manufacturer, ISO 9001:2000, ISO 9001:2008 Certified and recipient of both the prestigious President's Excellence & E Star Award in Export from the U.S. Commerce Department and the Nation's Blue Chip Enterprise Award from the U.S. Chamber of Commerce. Aquathin purification, softening and filtration products are Made In USA, and are WQA Quality and Efficiency Certified. We have a very impressive global client list.

Website: www.aquathin.com
Facebook: https://www.facebook.com/pages/Aquathin/256844846496
Blog: http://www.aquathin.com/news
Email: info@aquathin.com
FOR THE BEST TASTE IN LIFE &
40 Years Pure Excellence
...into another Half Century re-inventing the water industry !
Think Aquathin...AquathinK !
( visit the all new www.aquathin.com )
** AN ISO9001:2000, ISO9001:2008, ISO9001:2015 QMS REGISTERED / CERTIFIED COMPANY - (IMS 0192, NQA 12635) ** & 2008 PRESIDENT'S E STAR AWARD RECIPIENT ( visit www.aquathin.com/estar2008.pps )
Alfie
Alfred J. Lipshultz
President & CEO
Aquathin Business Center / 950 South Andrews Avenue / Pompano Beach, FL 33069
T 954 781 7777 / F 954 781 7336 /E info@aquathin.com / Skype aquathinhq.alfie