Chandapiwa William Kativu, Mr.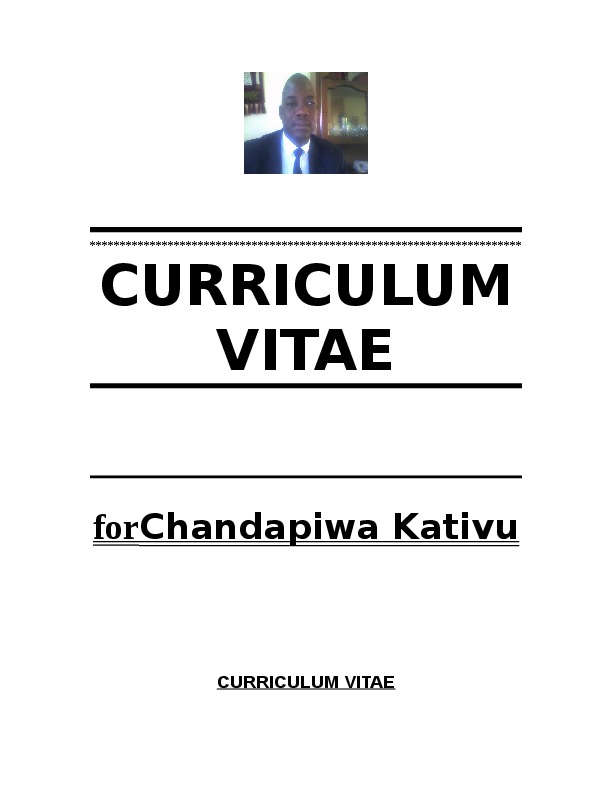 I have more than 28 years of experience (vast exposure) in Programmes & Projects Planning, Co-ordination and Management as well as Monitoring and Evaluation. I am currently working as a UNICEF Cholera WASH Specialist in Baidoa Somalia seconded from Swedish Civil Contingencies Agency.
I am competent in building the capacity of Community Based Organisation and I have gone through several short courses in MSB (Swedish Civil, Agency) WASH Field Staff induction, climate change, Food Security, Rural WASH Information Management System (RWIMS) sensitisation training, general organisation management & administration including human resources management and have competence in the following:-
1. Community development programmes, planning, coordination, programming, implementation and management these includes building the capacity of Community Based organisation, Participatory Health & Hygiene `Promotion and Education (PHHP/E), Participatory Hygiene and Sanitation Transformation ( PHAST), Community Lead Total Sanitation (CLTS), Rural and Urban Water, Sanitation, Health, Hygiene ( WASH ) and Shelter , Food Aid Securityas well as livelihoods, Occupational Safety Health Hygiene & Environment and Disaster Management, Relief and Response and Gender Based Violence,
2. Climate change
3. Projects identification including income generating activities, Social development projets research/ base line surveys,
4. Managing and facilitating complex change processes and relationships among stakeholders.
5. Strategic Planning & Budgeting, policy related issues, particularly in the areas of participatory development, Supervision, Monitoring, Assessment and Evaluation, programming (with sound knowledge of development aid).
6. Resources mobilisation, capacity/ institutional development.
7. Management of Training and supervision as well as skills development (technical expertise) for field staff, volunteers and beneficiaries (a good team player & hands-on, ability in handling, or supervising others as regards, finances, fund raising, operational security, personnel, health and diplomacy)
8. Narrative Reporting & report writing (negotiation skills), organisational skills, management of information (MIS)/ Information Education and Communication (IEC), communication & publicity skills ( Experience of media and willingness to promote the needs of beneficiaries on the broadcast, printed and electronic media). I relate and communicate well with people at different levels and of different backgrounds regardless of gender, age or race.
9. Networking and coordination with other agencies and the donor community (polished external representation skills)
10. Six years of experience as consultant in the fields of Health, Water, Sanitation & Shelter
HIV/AIDS, Community Development projects, Capacity building, Policy formulation, Strategic planning, monitoring & evaluation, Training/Conferences, Management, Planning and Budgeting.
11. Basic Civil Engineering
12. Computer Literate (MS Word, Excel, Power Point, Publisher, Out Look)
13. I have international experience and exposure in working with Emergency Preparedness, Response Coordination and development as well as refugees operations, WASH[1]and Food Security/livelihood activities in Angola, Botswana, Cambodia, Denmark, France, German, Kenya, Lesotho, Malawi, Mozambique, Namibia, Swaziland, Somalia, South Africa, Sweden, USA, Zambia and Zimbabwe.
14. I have National experience worked in the following Provinces with Food Security& livelihood, Disaster and WASH Matabeleland South (Beitbridge, Matobo, Gwanda districts), Matabeleland North (Hwange & Victoria falls districts), Mashonaland East & Masvingo(all districts), Mashonaland Central (Muzarabani, Mt Darwin & Chiweshe districts), Mashonaland West (Zvimba Murombedzi districts) Midlands (Gokwe North and South Districts) and Manicaland (Chimaninimani, Chipinge & Mutare districts)
15. Experienced in working in a mining environment at Zimbabwe Platinum Mine, catering & accommodation services as a Safety Health Hygiene, Environment, Risk and Quality Manager
[1] Water Sanitation and Health