Engr.Chinenye Justin Nwaogwugwu., MANAGING DIRECTOR/FOUNDER: Macjames Global Resources Ltd and Macjames Ikiomoye Technologies Ltd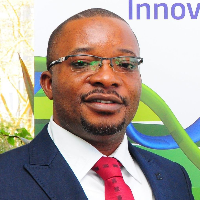 I am Engineer Chinenye Justin Nwaogwugwu , a registered Chemical Engineer by Council for the Regulation of Engineering in Nigeria (COREN) and a member of Nigeria Society of Engineers (NSE). I have a B.Eng in Chemical Engineering from the Federal University of Technology, Owerri, Nigeria. An advanced trained Health, Safety and Environment (HSE) personnel by Nigerian Institute of Safety Professionals (NISP). I received entrepreneurship and innovation management training from Doug Richard's School for Startups, London; PAN Atlantic University/Enterprise Development Centre, Nigeria; Founder Centric (Source Institute),United Kingdom; Tony Elumelu Entrepreneurship Programme (TEEP), Nigeria.
My Chemicals Innovations:
I have researched, developed and manufactured over 45 chemical products, from 2003 to date, single-handedly and jointly. My award-winning chemical innovations include: MACJAMES® SaferEx - MULTIACTION WATER PURIFIER ; Winner of Unilever Foundry Ideas's "Clean Water Challenge" 2016 (https://cleanwaterchallenge.ideas.unilever.com/Page/Home). Selected among top 1000 innovations in Africa (from 54 countries and over 45,000 innovations) by Tony Elumelu Entrepreneurship Programme (TEEP) 2016. Qualified in the "Create the Future Design Contest 2016" by COMSOL and Mouser Electronics U.S.A. (http://contest.techbriefs.com/2016/entries/consumer-products/6350).
MACJAMES® MULTISURFACE DEGREASER/CLEANER - MMDC-11; Selected for Africa Prize for Engineering Innovation 2014/2015 by Royal Academy of Engineering, United Kingdom. Co-winner with MACJAMES® MULTIPURPOSE LIQUID DETERGENT - MMLD-06 of Federal Government of Nigeria Youth Enterprise with Innovation in Nigeria award 2012 and qualified for "Create the Future Design Contest" 2013,2014,and2015 sponsored by SAE international, COMSOL and MOUSER Electronics, USA.
My Entrepreneurial Ventures and Work Experience:
The Founder/Managing Director of Macjames Global Resources Limited and Co-founder/Managing Director of Macjames Ikiomoye Technologies Limited, http://www.macjamesglobal.com, manufacturers of over 45 conventional and innovative Water Treatment, Household-Institutional & Industrial-Oilfield (WT,HI&IO) chemicals. We have many chemical products approved/registered by National Agency for Food and Drug Administration and Control (NAFDAC) and Department of Petroleum Resources (DPR) for use in Nigerian oil and gas industry. I have over fourteen years practical work, research and entrepreneurial experiences including Manufacturing processes, Water Treatment and sanitation, Plant Design and Construction, Corrosion Control, Client Services, Marketing, Sales, Innovation, Management, and Consultancy, among others, from over ten industries and institutions. These include Manager level at Zinga Nigeria (a subsidiary of Zingametall, Belguim) - coating and solvent manufacturers, Teesquare Limited, Port Harcourt (chemicals manufacturers), Bisty Nigeria Ltd, an apprenticeship at Oil and Industrial Services Limited (OIS), Macjames Global Resources Limited, among others.
Water Treatment and Process Technology Experience: I have investigated, design and executed many projects, which includes areas in raw water quality investigation and treatment prescription for both potable and industrial water; design and installation of borehole water plants, Sterilization/disinfection and maintenance of water storage and distribution facilities; research and development, manufacturing of water treatment chemicals ( like SaferEx, Sodium Hypochlorite, Coagulants and Flocculants, Super algaecide, clarifiers, etc), among others.
I am an innovator, a consultant, a great learner, mentor, researcher and an entrepreneur with passion in creating innovative chemical solutions for mankind. I enjoy the gift and beauty of nature!