Hamidreza Khodabakhshi, Deputy CEO at Khouzestan water & power authority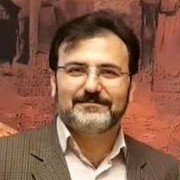 IN 1982, I became a bank employee
I also studied water engineering
I resigned from the bank and started working for an infrastructure company
Then I worked as an expert in the largest and most experienced state-owned company in the country in the field of water, electricity and civil infrastructure, and during 25 years of work, I went through the stages of promotion to the position of deputy. .
I have been the manager of many projects in the fields of irrigation and drainage, dam construction, water resources management and planning for water resources management, and I have used new technologies, hardware and software to do things that are an innovation in the world.
I gained valuable experience in organizational structure and implementation of quality standards such as ISO 9000, IMS and EFQM.
I have a lot of certifications from training courses and wherever I worked, I got the first rank of annual evaluation.
While working, I pursued my interests in the field of environment, social affairs and business, and now I am the president of the Association of Water Industry Engineers.
I hope that by reforming human behavior and greed, the world will be free from global warming, climate change, war, and the freedom of beauty on all the planet will make humanity smile.